THIS LIMITED EDITION SILKSCREEN "COMPANIONS OF FEAR" WAS PRINTED WITH MATTHEW VAN ASSELT OF PULLPROOF STUDIOS IN PITTSBURGH, PA. NOVEMBER 2018. MEASURING 28"X20" HAND-CROPPED WITH DECKLED EDGE, PRINTED ON STRATHMORE LUNAR WHITE 140# PAPER, A LIMITED EDITION OF 30. EACH PRINT IS SIGNED AND NUMBERED BY THE ARTIST WITH DATE AND TITLE ON VERSO.

THIS IMAGE IS A UNIQUE VARIATION OF MY ORIGINAL 30"X22" GOUACHE ON PAPER PAINTING FROM EARLIER THIS YEAR, WHICH HAS FOUND ITS WAY INTO A PRIVATE COLLECTION. ITS INSPIRATION STEMS FROM TWISTING COMPLICATED CULTURAL SYMBOLISM SUCH AS THE HAND-KNIT PUSSY HAT, VAGINA DENTATA FOLKLORE, RENE MAGRITTE'S PAINTING OF THE SAME TITLE FROM 1942, AND SEVERAL CURRENT SOCIAL POLITICAL CONDITIONS ON THIS PLANET WE CALL HOME.

THIS SILKSCREEN PRINT WAS MADE VIA A SEVEN COLOR/SEVEN SCREEN ANALOG PROCESS IN WHICH EACH COLOR LAYER WAS HAND DRAWN ON TRANSPARENCY FILM WITH GREASE PENCIL AND OPAQUE WATERCOLOR, THEN BURNED ONTO SUBSEQUENT SCREENS AS WE PRINTED. IT WAS A PLEASURE TO MAKE, AND A PROCESS SURPRISINGLY IN-TUNE WITH MY CURRENT STUDIO PRACTICE.

THERE WERE NO PHOTOSHOP MANIPULATIONS OR DIGITAL COLOR SEPARATIONS WHATSOEVER. RATHER, EACH LAYER WAS AN INTUITIVE AND HAND-DRAWN ADDITION TO THE FORMER, BEGINNING WITH THE BRIGHT YELLOW BACKGROUND AND BUILDING UPON THE IMAGE ADDITIVELY LAYER BY LAYER, COLOR BY COLOR. SPECIFIC PANTONE COLORS WERE CHOSEN AND HAND MIXED TO THE ARTIST'S AND PRINTMAKER'S PREFERENCE CONSIDERING INK OPACITY AND VARIATIONS OF TONALITY AND HUE. MUCH WAS LEFT UP TO HUNCH AND CHANCE REGARDING HOW THE COLORS WOULD INTERACT, THE RESULTS ARE SPECTACULARLY VIBRATING AND OPTICAL.

..........


"COMPANIONS OF FEAR" LIMITED EDITION SILKSCREEN PRINT IS FOR SALE THROUGH MY STUDIO VIA PAYPAL OR VENMO FOR $175/EA. INCLUDING SHIPPING AND HANDLING. THEY WILL BE SHIPPED TO YOU EITHER ROLLED IN A TUBE OR FLAT BETWEEN MASONITE AND CARDBOARD, UNFRAMED, BY EDITION NUMBER, ONE PER PERSON PLEASE. ALSO, PLEASE SPECIFY YOUR SHIPPING PREFERENCES AND ALLOW AT LEAST ONE WEEK FOR SHIPPING.

TO PURCHASE, CLICK ON THE "PAY-PAL" BUTTON VIA MY WEBSITE AND THERE ALSO YOU WILL BE ABLE TO USE A CREDIT CARD OPTION. IF YOU HAVE THE VENMO OPT-IN ON YOUR PAY-PAL ACCOUNT IT WILL SHOW UP AS AN OPTION. IF YOU DO NOT SEE VENMO, YOU CAN JUST USE IT DIRECTLY VIA YOUR PHONE APP AND IT WILL LET ME KNOW. PLEASE INCLUDE YOUR SHIPPING ADDRESS.

ALSO, IF YOU DO NOT USE PAYPAL OR VENMO, OR PREFER AN ALTERNATE METHOD OR PAYMENT PLAN, PLEASE EMAIL ME AND WE CAN DISCUSS OPTIONS AND RESERVE YOUR EDITION.

PAYPAL: BRANDENKOCH@GMAIL.COM
VENMO: @BRANDEN-KOCH

THANK MEOW FOR YOUR SUPPORT!!!

XX ~ BRANDEN
---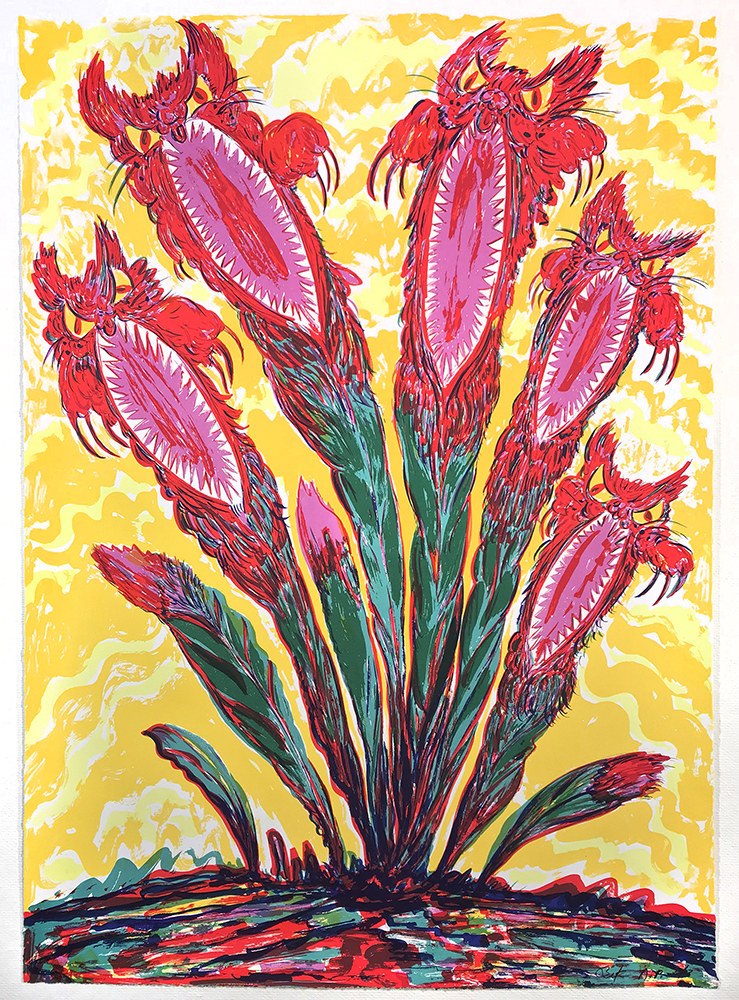 "COMPANIONS OF FEAR"
2018
seven color silkscreen print on Strathmore 140# polar white paper.
28"x22" unframed with deckled edge. Limited edition of 30.
currently 24 edition prints available (as of 11/26/2018)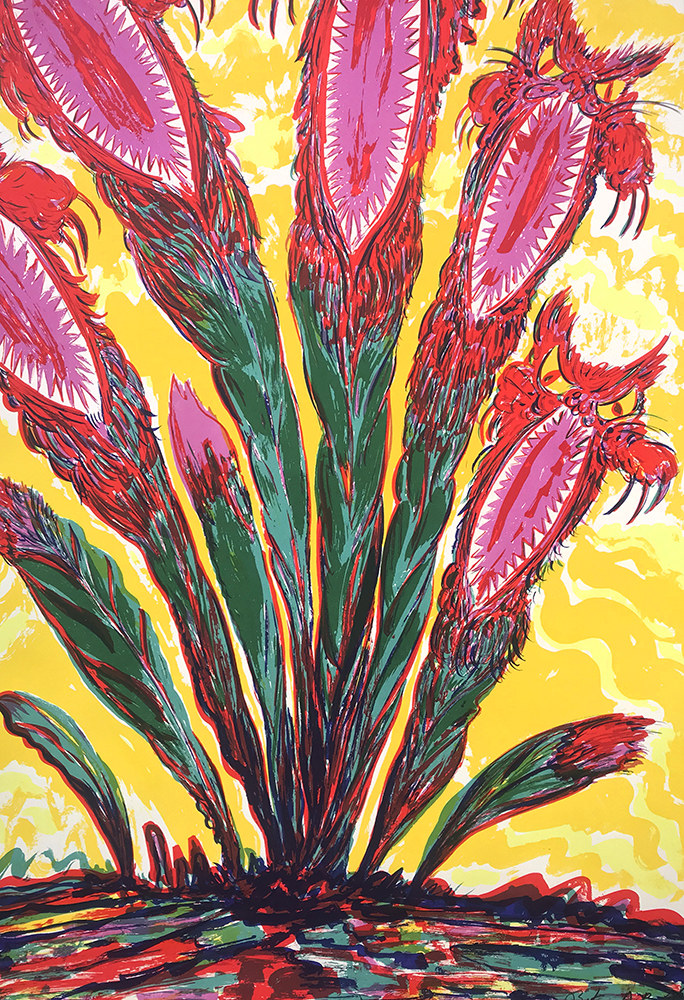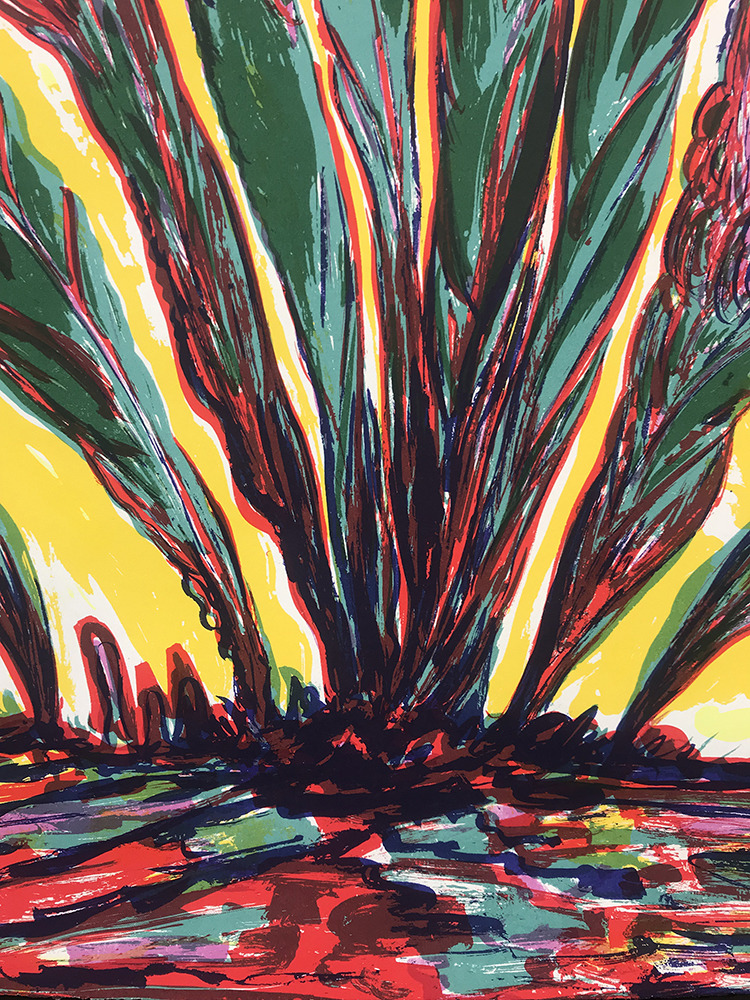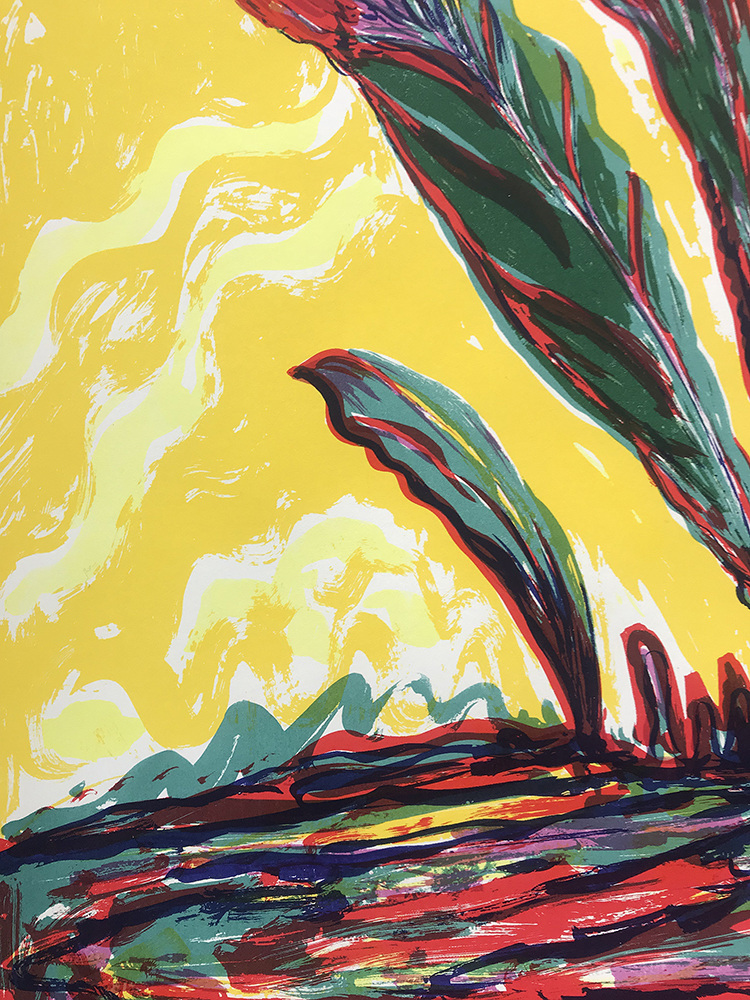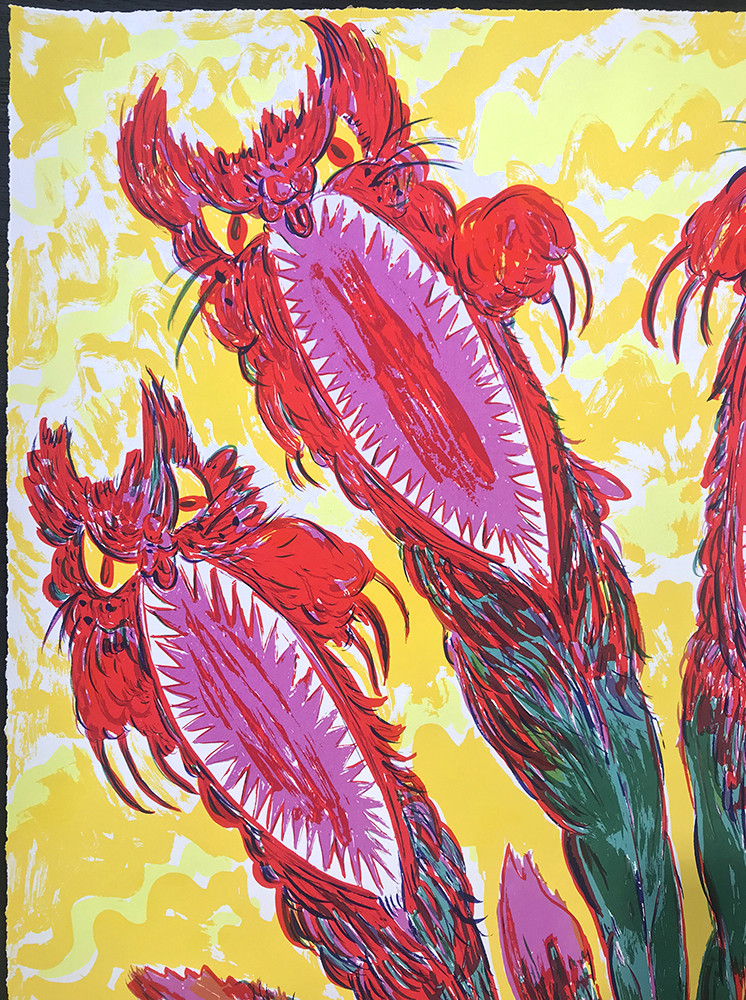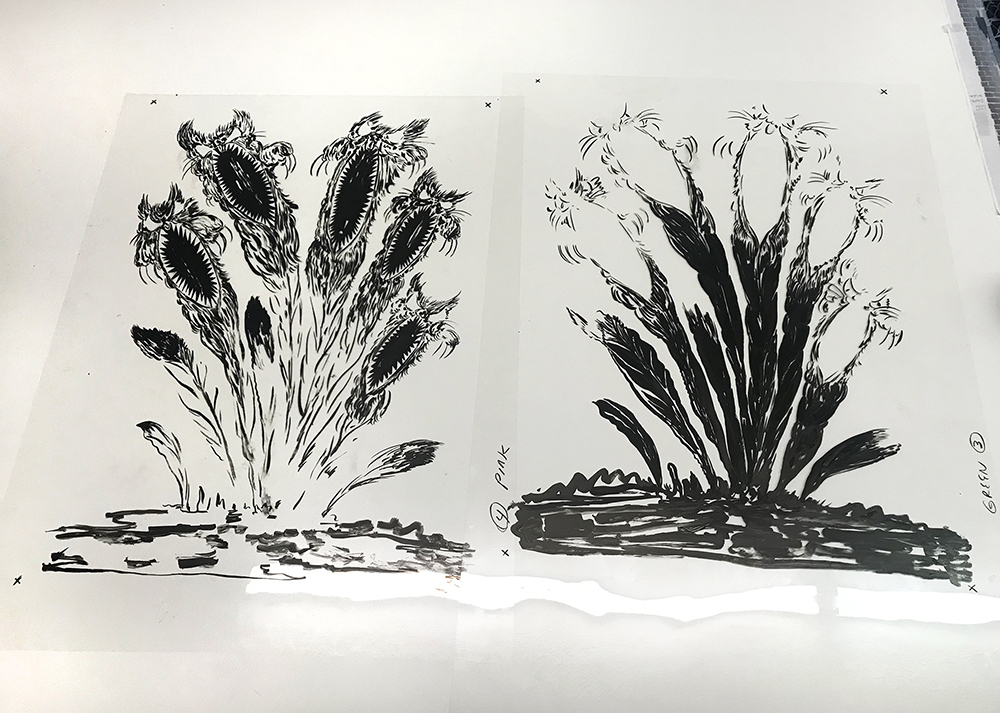 hand-drawn transparency films
NFS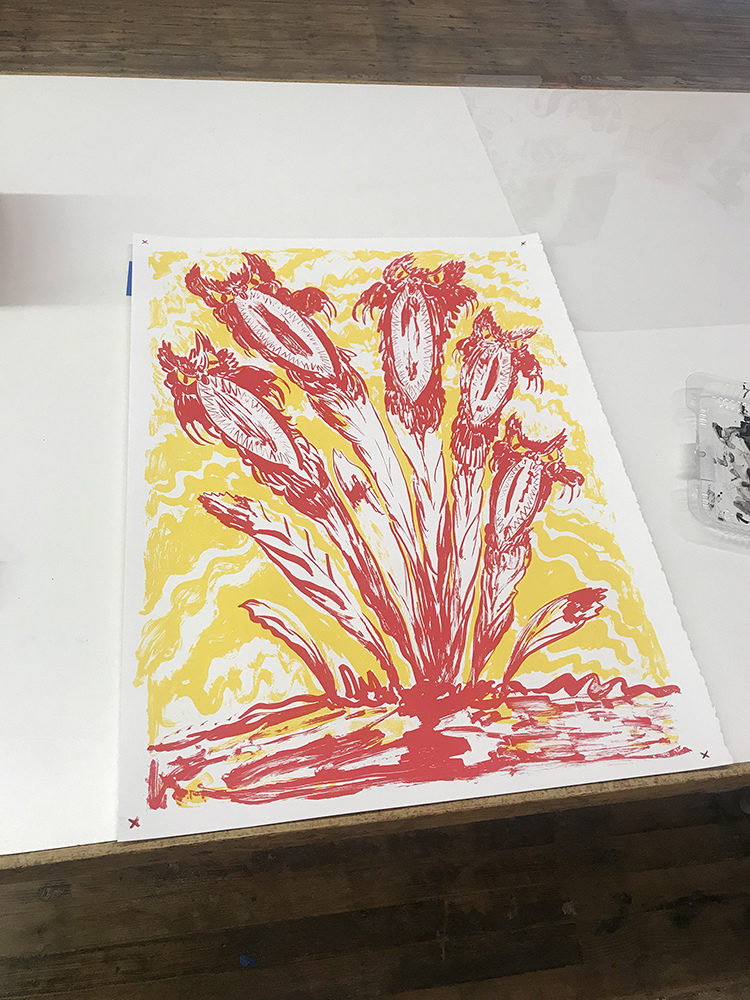 second state of print (warm yellow and warm red)
NFS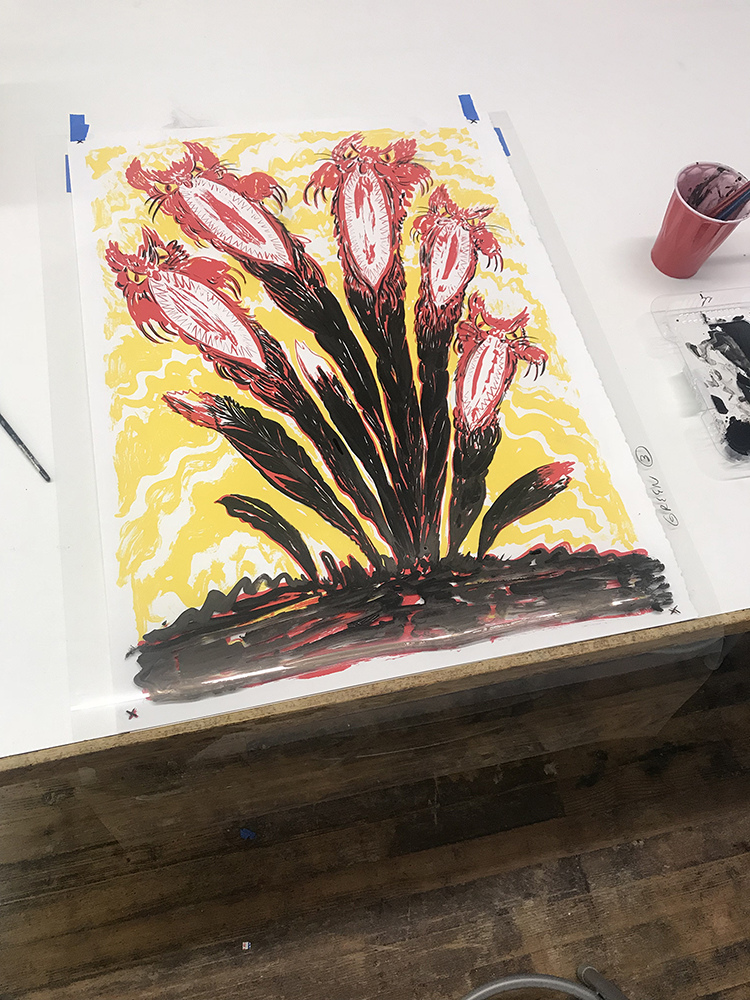 drawing third film layer on top of second state for cool green.
NFS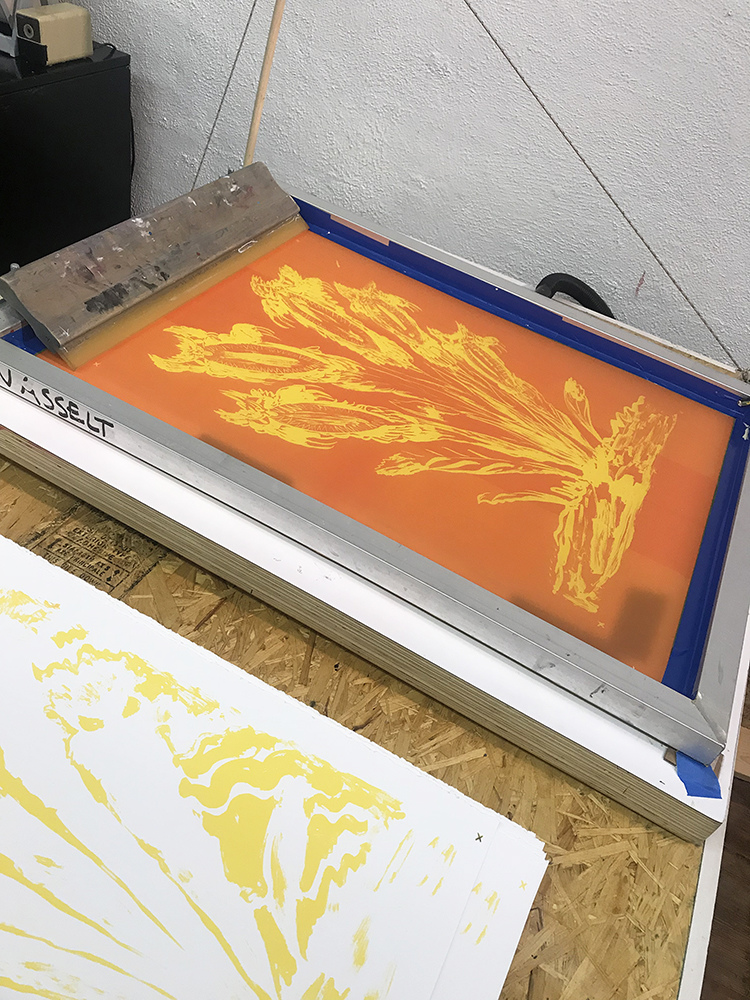 printing of second state (warm red) on top of first layer (warm yellow).
NFS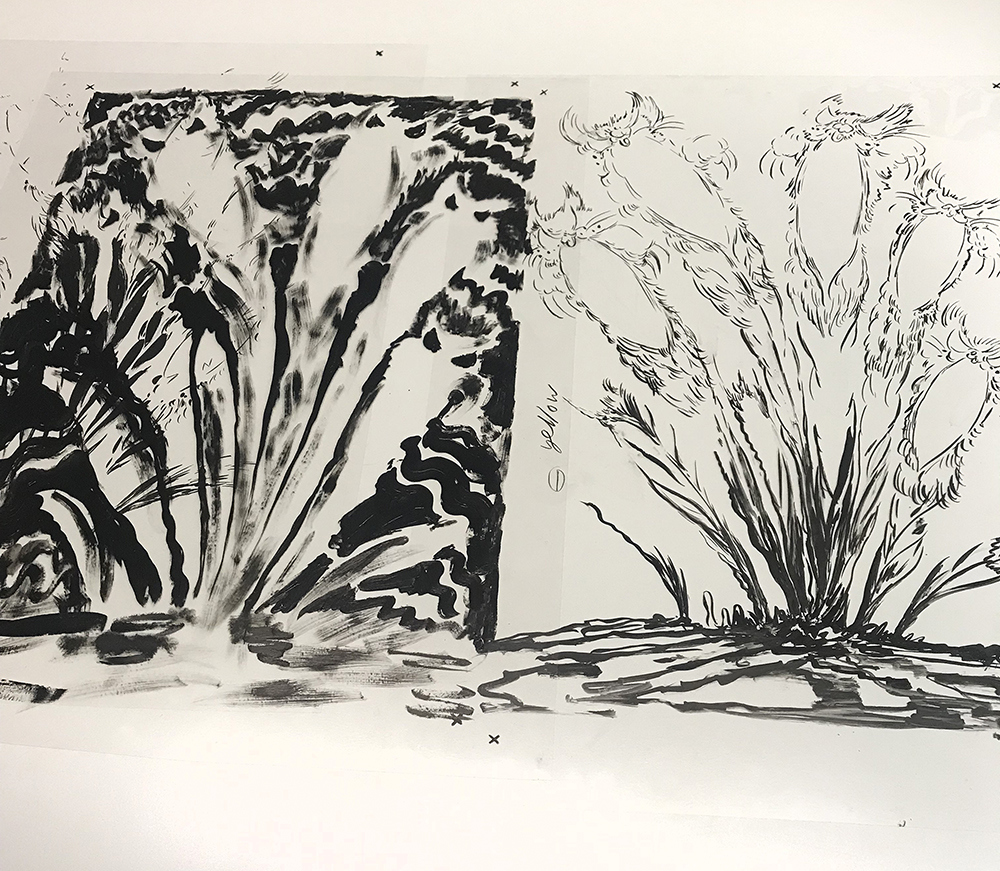 film drawings for first (warm yellow) and fourth (blue) layers
NFS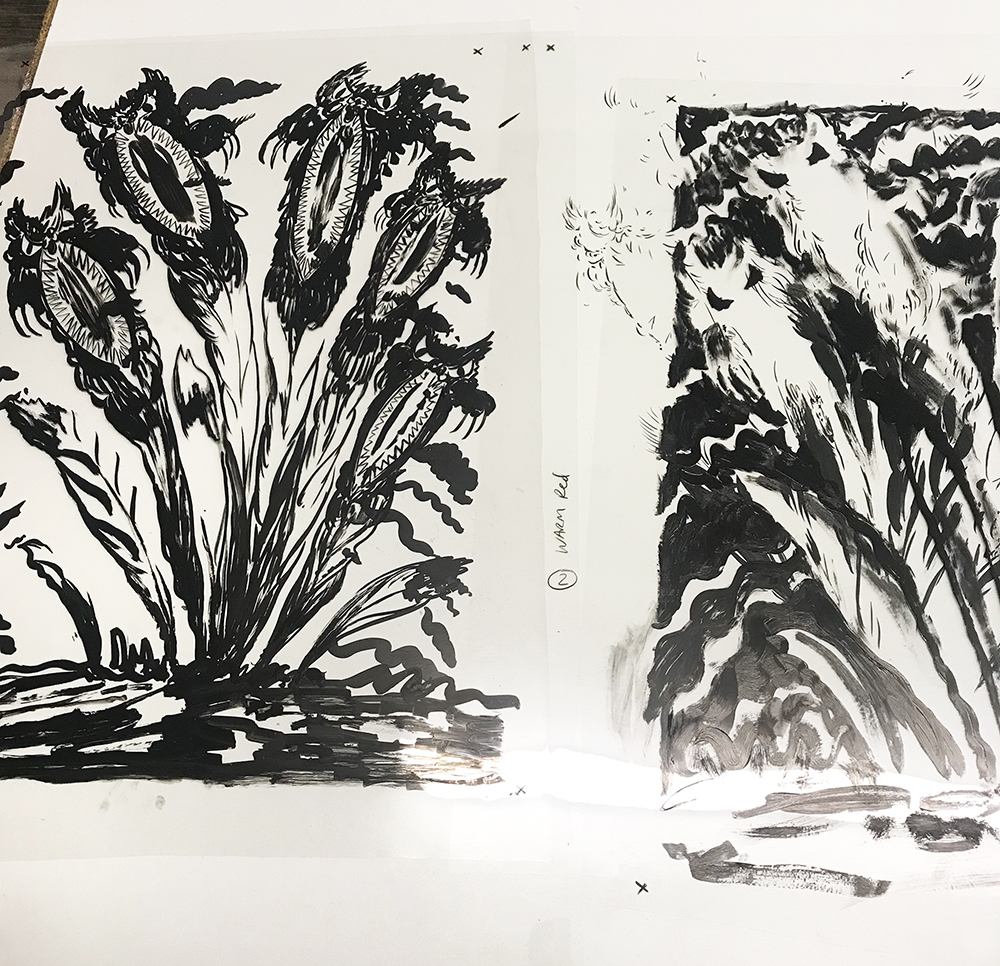 film drawings for first (warm yellow) and 2nd (warm red) layers
NFS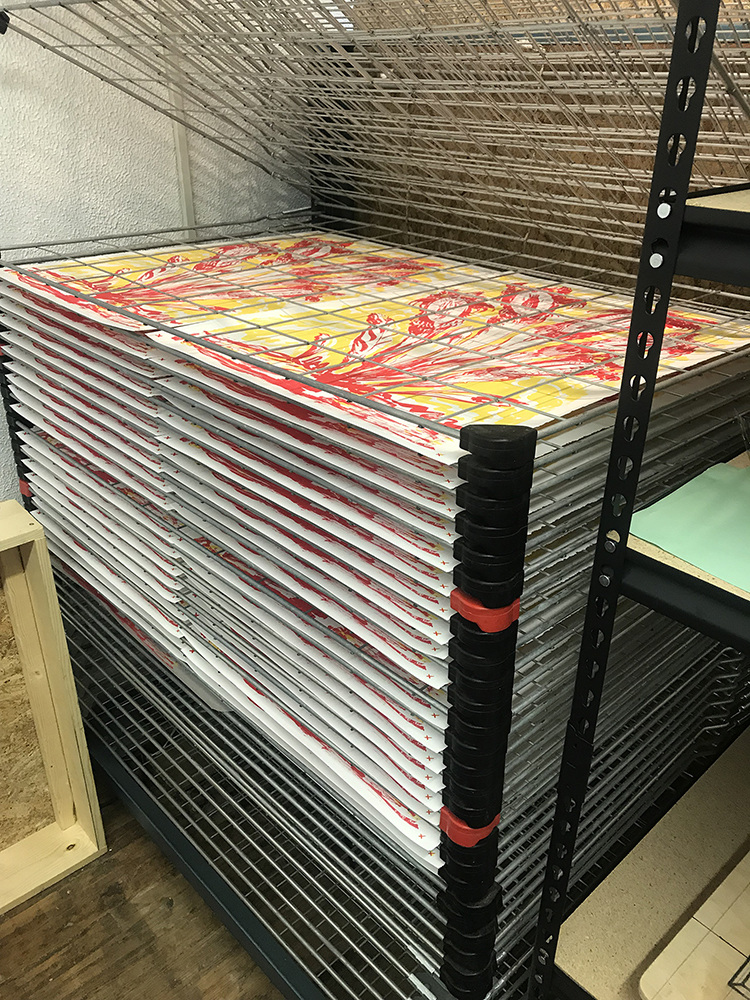 printing of second state
NFS