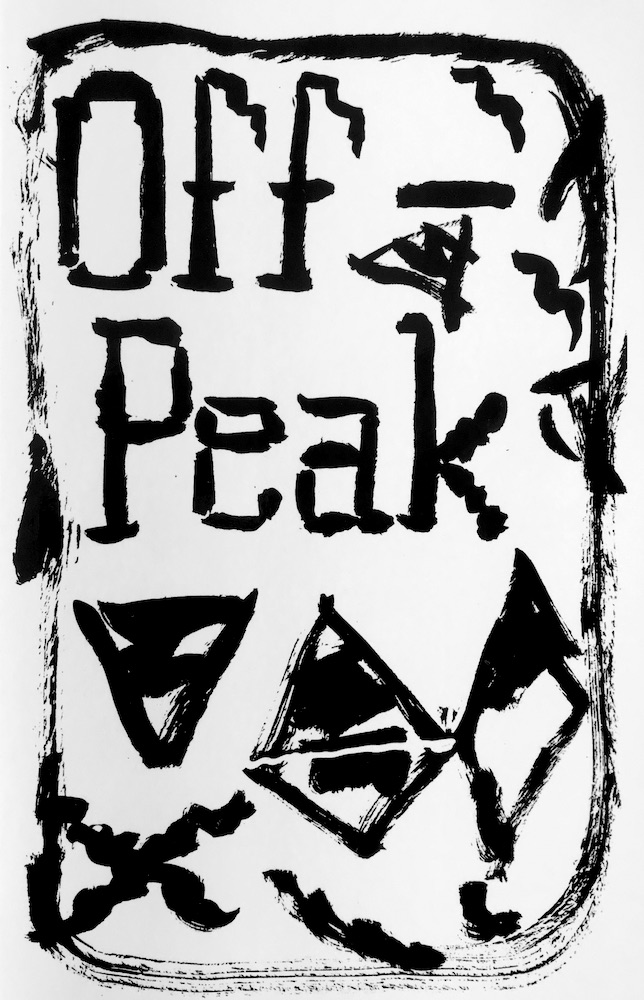 OFF PEAK (a training guide)
2019
52 page book / limited editon of 50
42 remaining (9/19/2019)
"OFF PEAK (a training guide)" is a the third self-published book by Branden Koch.
Siting Marcel Duchamp's painting: "Sad Young Man on a Train" from 1911-12 as a grand central terminal station for repeated departure, OFF PEAK is a selected collection of drawings, writings, and excerpted text put to paper while commuting to-and-from the artist's day job on NYC's Metro North Train. Each book is individually 'prepared' with unique drawings and hand-inked segments over over low-quality digitally printed pages which distort, cyborg, or screen the hand-drawn line. OFF-PEAK is best read with your body positioned horizontally: here, a non-linear performative image/text emerges like the a half-awake/half-dream state of the train commuter. 52 pages. Limited edition of 50. 2019. Please allow one week for shipping.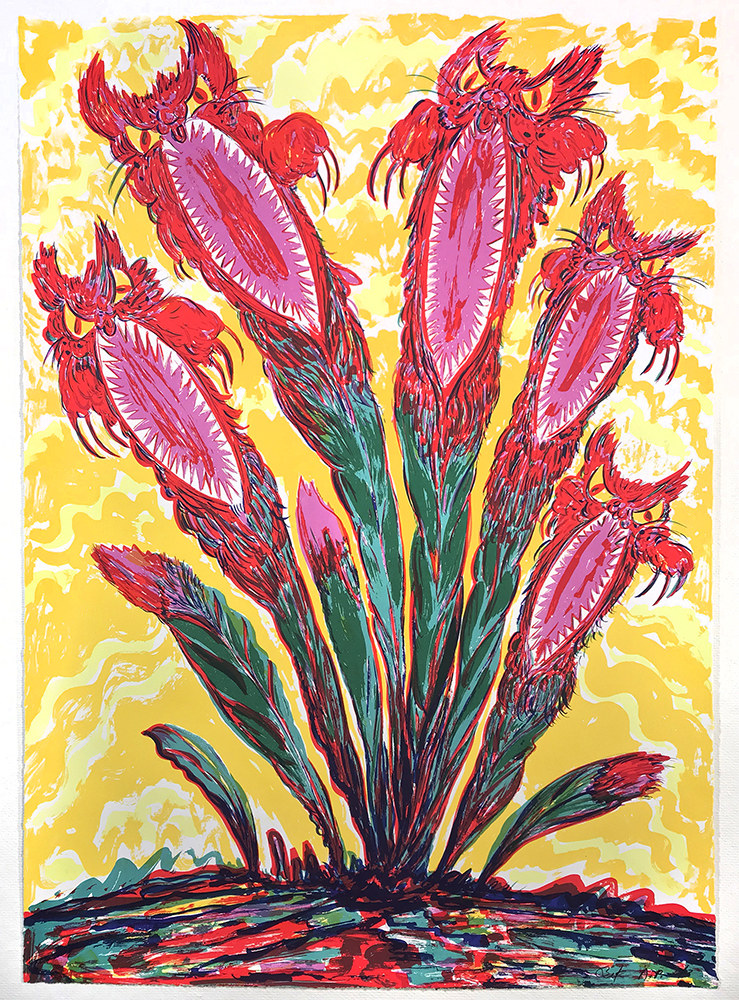 "COMPANIONS OF FEAR"
2018
seven color silkscreen print on Strathmore 140# polar white paper.
28"x22" unframed with deckled edge. Limited edition of 30.
THIS LIMITED EDITION SILKSCREEN "COMPANIONS OF FEAR" WAS PRINTED WITH MATTHEW VAN ASSELT OF PULLPROOF STUDIOS IN PITTSBURGH, PA. NOVEMBER 2018. MEASURING 28"X20" HAND-CROPPED WITH DECKLED EDGE, PRINTED ON STRATHMORE LUNAR WHITE 140# PAPER, A LIMITED EDITION OF 30. EACH PRINT IS SIGNED AND NUMBERED BY THE ARTIST WITH DATE AND TITLE ON VERSO.

THIS IMAGE IS A UNIQUE VARIATION OF MY ORIGINAL 30"X22" GOUACHE ON PAPER PAINTING FROM EARLIER THIS YEAR, WHICH HAS FOUND ITS WAY INTO A PRIVATE COLLECTION. ITS INSPIRATION STEMS FROM TWISTING COMPLICATED CULTURAL SYMBOLISM SUCH AS THE HAND-KNIT PUSSY HAT, VAGINA DENTATA FOLKLORE, RENE MAGRITTE'S PAINTING OF THE SAME TITLE FROM 1942, AND SEVERAL CURRENT SOCIAL POLITICAL CONDITIONS ON THIS PLANET WE CALL HOME.

THIS SILKSCREEN PRINT WAS MADE VIA A SEVEN COLOR/SEVEN SCREEN ANALOG PROCESS IN WHICH EACH COLOR LAYER WAS HAND DRAWN ON TRANSPARENCY FILM WITH GREASE PENCIL AND OPAQUE WATERCOLOR, THEN BURNED ONTO SUBSEQUENT SCREENS AS WE PRINTED. IT WAS A PLEASURE TO MAKE, AND A PROCESS SURPRISINGLY IN-TUNE WITH MY CURRENT STUDIO PRACTICE.

THERE WERE NO PHOTOSHOP MANIPULATIONS OR DIGITAL COLOR SEPARATIONS WHATSOEVER. RATHER, EACH LAYER WAS AN INTUITIVE AND HAND-DRAWN ADDITION TO THE FORMER, BEGINNING WITH THE BRIGHT YELLOW BACKGROUND AND BUILDING UPON THE IMAGE ADDITIVELY LAYER BY LAYER, COLOR BY COLOR. SPECIFIC PANTONE COLORS WERE CHOSEN AND HAND MIXED TO THE ARTIST'S AND PRINTMAKER'S PREFERENCE CONSIDERING INK OPACITY AND VARIATIONS OF TONALITY AND HUE. MUCH WAS LEFT UP TO HUNCH AND CHANCE REGARDING HOW THE COLORS WOULD INTERACT, THE RESULTS ARE SPECTACULARLY VIBRATING AND OPTICAL.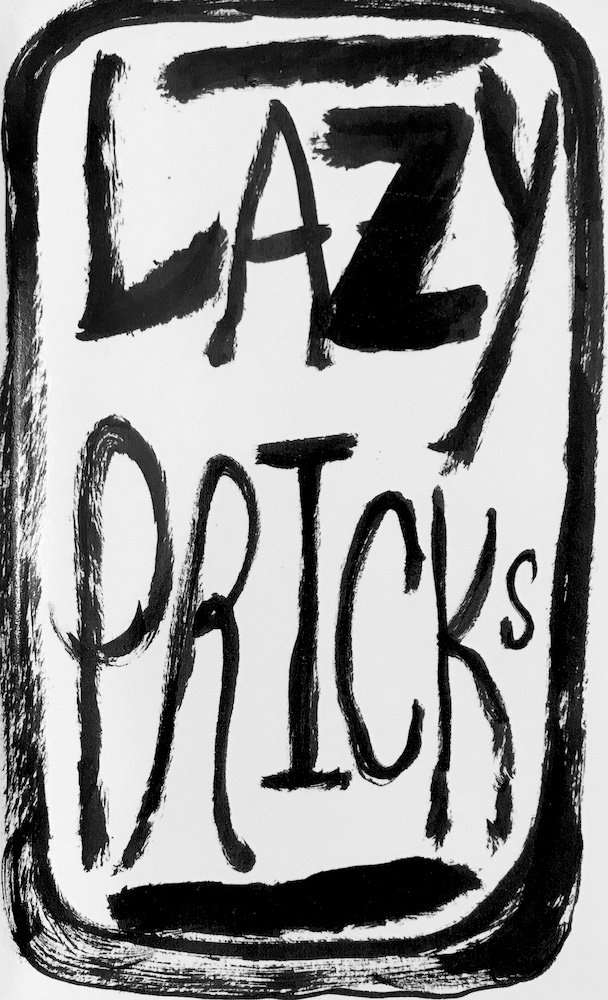 LAZY PRICKS
2017
138 Pages.
print-to-order >> to purchase, copy/paste this link in your browser:

https://www.blurb.com/b/8104721-lazy-pricks

This is a limited edition 138 page non-prescriptive guidebook commemorating my show LAZY PRICKS at Soloway Fine Arts in Brooklyn, NY opening from September 9th through October 22nd, 2017. It is a collection of drawings from various sketchbooks; part observational, part fictional, part autobiographical. It is not prescriptive on how to see, but descriptive on how I feel. Call it expressive maybe, I don't really know. By making this, I am hoping to learn how to see, and how to share a little better than I could before. ~~BK, 2017.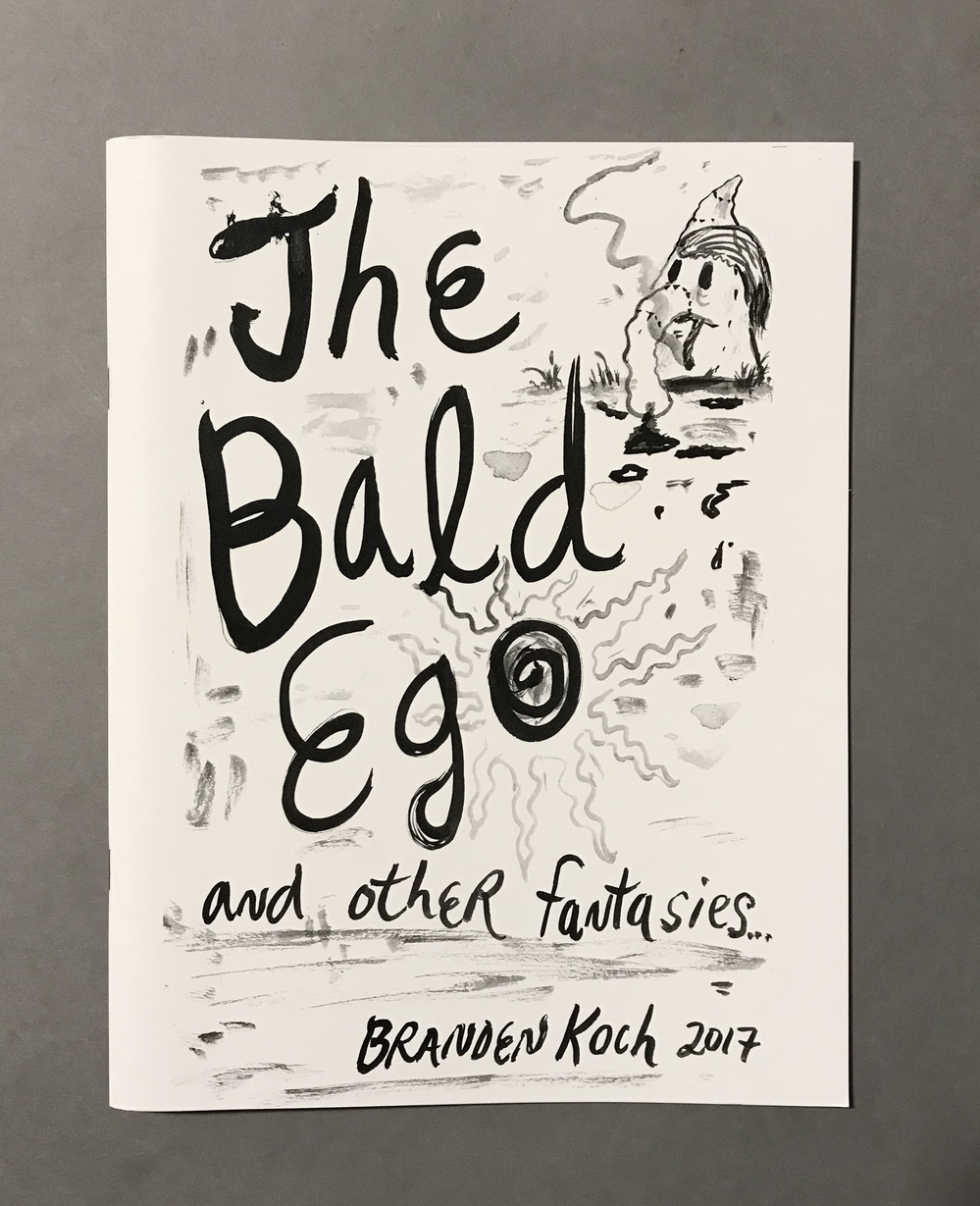 "The Bald Ego and Other Fantasies..."
2017
40 page artist's book commemorating "The Bald Ego" at Regina Rex NYC, April 7- May 14, 2017.